The Releases
Part One: early cassettes:
Five Pieces Live

2

Live @ Present Time Studios

Paper Bag: Live in L.A., '84-'85

Paper Bag: Live 85.5

(These are early compilation demos featuring recordings from '83-'85. Notes for them will show up here eventually. "85.5" was our last with Ken Rosser and got sold and sent out for review- see articles page. There was already probably around 150 hours of music recorded by this point- if not more. George Radai joined and the taping continued:)

Drapes of Rain

("Victimless Crime" received a wide distribution, thanks to our placing ads, sending the tape out for review [of which there were plenty- see articles page], and Kenny and M. busting their asses making lots of tapes. "Drapes of Rain" featured two complete live shows from late '85, one per side.)
Part Two: Vinyl and CD:
Ticket To Trauma

A Land Without Fences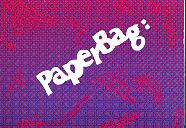 Music To Trash

Improvised My Ass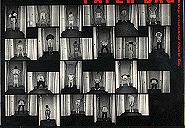 Airwave Rituals

and there is Paper Bag music unavailable anywhere else on:

Taste Test #1
(New Alliance records- live radio performances from various artists including PB)
Aside from these, in total there is approximately 400 hours of unreleased taped original improvisations. We recorded shows and rehearsals as often as possible, and since we never did anything twice, that made for a lot of new material . It was turned out on a weekly basis for 6 years. To give you an idea of how much music that is, if you listened for 8 hours a day, 7 days a week, it would take you 50 days- nearly two months- to get through it.