TICKET TO TRAUMA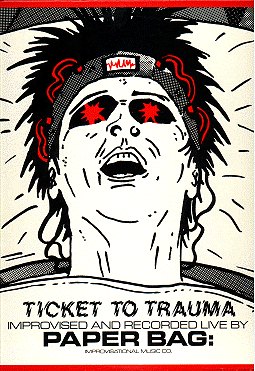 recorded August '85- February '86; released 4/87
Paper Bag's first release on vinyl. It was originally intended to be another independent cassette release (we'd had a few by then) but we opted to press it ourselves and get it distributed. The manufacturer turned out to be crooked and we had to fight to get back the master tapes and the cover art. (We only got back half of the cover art- M. had to recreate the rest.) Meanwhile we were still cheated out of our money, so we wouldn't be able to release it ourselves. Eventually SST picked the band up and released this album.
Despite the fact that we did the mixdown at a professional studio, it still sounds like what it is- a 4-track recording. While some might find fault with this, I think it gives the record a very singular atmosphere- subtle and slightly distant, like a dream or an old photograph. For me, it's always been a toss-up between this and "Music To Trash" for my favorite PB release.
Side One:

Ticket to Trauma

Through Your Eyes

Crankman

Sublimation

Rain On Benares

Monkey Jack

What More Do You Want?

The Ballad of Ed Gein

Side Two:

Think For Myself

Priests On Drugs

The Devil's Cha-Cha

Ambient Languages

Homeless

Garberville

The Nile Cries

Closed City

Recorded at LBP Studios, Van Nuys, CA. Produced and engineered from 4-track recordings by C. Alleca. Mixed April, 1986 at Platinum Studios, Hollywood, CA.