LIVE REVIEW, C.O.M.A. SHOW
(exact date uncertain, but sometime in early to mid-'86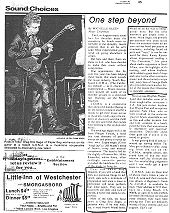 (to see an enlargement of the picture, click here)

and the Paper Bag section reads: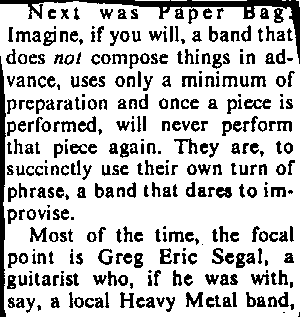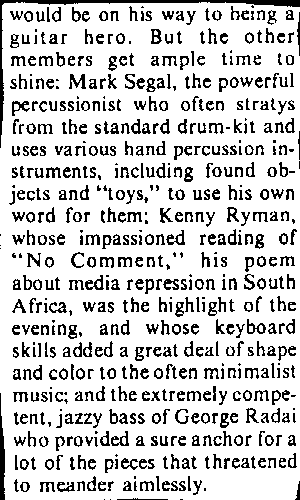 This was Michelle's 2nd article about us, her first being a blurb in her very first column for Coast Media, who published a string of local papers.

Michelle's association with us was part of a very unique phenomenon for the band: people who came to us through the music rapidly became friends or even family. Two band members married women who, initially, were fans. We met Tom Shannon after he heard us on KXLU playing live. We met Dave McIntire because he hung out at Be-Bop Records and became fascinated with the music and what we were doing.

In Michelle's case, she saw us open for the Red Hot Chili Peppers at the Anti-Club one night in the summer of '85. She'd come to see them, and was instead completely taken with Paper Bag. This probably tells you much more about Michelle than us....Anyway, she started coming to rehearsals and recording sessions (she was present for some of both "Victimless Crime" and "Ticket To Trauma"), and being a freelance writer, she did pieces on us numerous times. Eventually, her association with the band became more friendly than professional, and her interests shifted from freelance writing to photography, enterprenuership, etc. She ended up taking the band photo on "Music To Trash", for example. Paper Bag performed an improvised wedding march when she married Richie Hass of Beatniks fame. The professional aspects have faded, the friendship continues to this day.